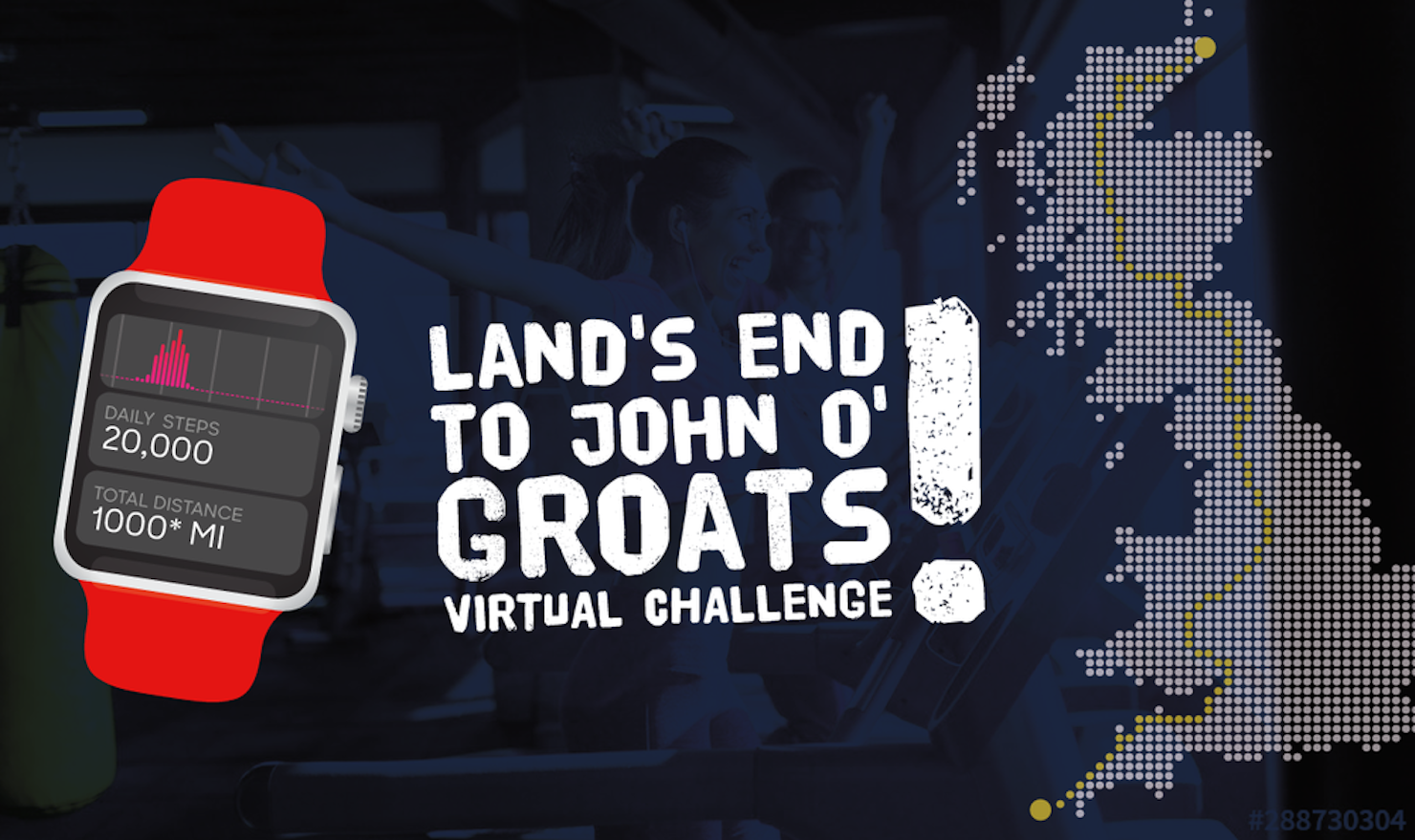 The basics
1 team, 1408km, 69 days
Here are the easy steps you'll need to take part in the LEJOG Virtual Challenge;
Gather your team
You need 2-4 people in your team; obviously the more of you there are then the less you each have to do! You don't all need to be in the same place at the same time for any of this challenge so pick your strongest squad whichever time zone they are in.
Register
As part of your registration, you will set up a single fundraising page for your team on JustGiving. This is where people can sponsor your team. You'll also use it to track your challenge — you can find out how further down this page.
Set a target
We recommend setting a fundraising target on your fundraising page of £400 per team. £400 could contribute massively to putting a new member through a Virtual Induction Week.
Spread the word!
Let your friends and family know you are doing the challenge and share your team fundraising page far and wide.
Get moving!
To complete 1408km it equates to 4 people each covering just over 5km a day each. You can do this wherever and whenever you want; doing more on some days and less on others according to your schedule (or the weather!). The beauty of this challenge is that ALL kms count; walking the dog, spin class, running on a treadmill – it all counts!
Remember to track your kilometres!
You can link your team fundraising page to your Strava app. It should make tracking your challenge much easier. You'll also be able to share your routes and distances online, and show off your stats with friends and family!
Alternatively, you can input your kms manually on your team fundraising page. Check out our FAQs for all the info you need to set you your tracker or track manually.
Simple ways to get moving more
Simple ways to get moving more;
Get off the bus or tube a stop earlier than you need to
Park in the furthest space from the gym/supermarket
Get out for a walk at lunchtime, or if you work in the city - grab a city bike and aim to do your 3km before the afternoon slump.
Mix it up at the gym; static bike is the fastest and will get you the most kms in the quickest time, while swimming is slowest but the lowest impact. If your legs are feeling tired rowing is a good option for eating up those kms.
Ditch the car! Walk to the shops, do the school run on foot. You'll be saving cash and getting your step count up at the same time.
Essentials
Do not try and take on more than you are comfortable with. The golden rule here is little and often, don't push yourself too hard or you may pick up an injury.
If you are planning a long hike/cycle/run make sure you have all your kit ready in advance. Pack the appropriate clothing, footwear and ensure you have a fully charged mobile phone, plenty of water and snacks.
If you are going out alone or at night – be safe. Ideally take someone with you, stay in well lit, busy areas and make sure someone knows where you are going and what time you will be back. ALWAYS take your phone with you.
This challenge is not about competing with your team mates, its about working together towards a combined goal.